Bank of Canada defends its credibility after rate cut shocker
Date Posted: March 26, 2015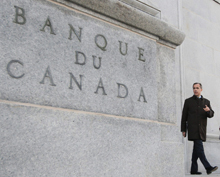 Economists and Financial markets have recently begun questioning actions taken by the Bank of Canada - most significantly, its decision to drop policymarkers' long-standing practice of providing guidance on when and why a potential rate move could be occuring.
"Ultimately, our credibility will hinge on how well we meet our mandate," Mr. Stephen Poloz, Bank of Canada governor, said in his speech to the Canada-United Kingdom Chamber of Commerce in London.
Mr. Poloz questioned whether very low long-term interest rates and recent increases in the financial market volatility represent an erosion of the central bank's credibility. Though Mr. Poloz belives the Central banks are doing their jobs, in a very challenging environment. The drop in global oil prices, which has been a unforeseen event that has thrown federal and provincial budgets, and energy-reliant industries into a tail spin has been one of these recent challenges.
Central banks around the world, including the Bank of Canada, reacted to this challenging environment with policy announcements that weren't fully anticipated by investors. In the Bank of Canada's case, they shocked markets in January by dropiing the bank's key rate to 0.75% from 1%. This move caught many by surprise, including private sector economists and financial markets.